"

"Life is what happens to you while you're busy making other plans." " - John Lennon, Allen Saunders
Press Photos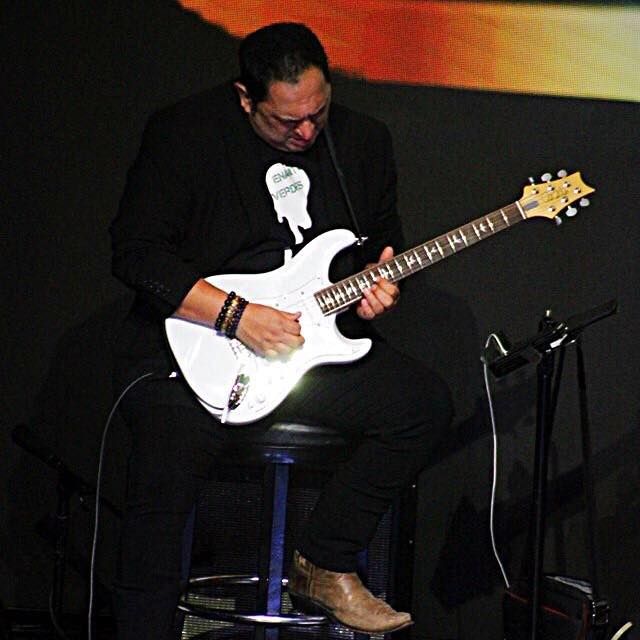 Johnny J Rivera
Guitarist, Vocalist, Songwriter, Music Production
Johnny j Rivera
Born in Central California and raised in Southern California. Johnny grew up listening to the sounds of Steely Dan, Earth Wind & Fire,The Beatles and Heatwave. He graduated from G.I.T In 1986.
In 2010 he released Trying To Catch Rain and had a #1 song on the Smooth Jazz charts with a song called Lady Cab Driver. He composes and performs his own material. Sometimes, with a little help from a friend or two. He has played all over the United States as a guitarist for The Gregg Austin M-Town and More Show.
In 2021 he released a single called Gotta Say Something from an upcoming album. His music is different but somehow familiar. Give it a spin..
REVIEWS
"January 23, 2011 - Give me something fresh! That's my new mantra for 2011. Even though Johnny J Rivera is more of an R&B/Pop singer (who serves up a healthy helping of Blues in the mix) the singer/guitarist seems to have found a home in Smooth and Contemporary Jazz. Rivera, who lives in Las Vegas, is a huge Beatles fan and it shows in his harmonies. Tunes like 'London' and 'Lady Cab Driver' (the first single) have that 'fresh and clean' feel. They are also reminders that an artist can generously borrow from old musical inspirations and still sound original. Rivera spent some time playing with Norman Brown and like his old buddy singing while playing a crazy-ass guitar comes easy. One of the biggest complaints in Smooth Jazz is the music can be really boring. Something that happens in the name of SMOOTH. The more seasoned players however, aren't really interested in putting anyone to sleep - we have Jennifer Aniston for that. The sense of cool on this album also makes it top-shelf. J"
John Beaudin - Smooth Jazz Now
"Johnny J. Rivera's 'Trying to Catch Rain' to be Featured on 'Full Spin' September 13, 2010 – Listen for a refreshing new album to be featured on 'Full Spin' this week. 'Trying to Catch Rain' by Las Vegas guitarist/singer will be played in full on Friday night at 7PM. "I met Johnny last year when he sent me the single 'Lady Cab Driver,'" says 'Full Spin' host and station Program Director, John Beaudin. "His tune topped our chart, which is amazing for a relatively unknown artist, and now that the album is out we are pumped." Rivera will also sit in with Beaudin and describe each track from the project. In previous weeks Beaudin has featured 'Global Kiss; from Steve Oliver, 'Out of the Box' from Jack Prybylski and Airborne's 'New Horizons.' Full Spin is also replayed each Tuesday at 7PM (EST). – Shannon Edwards "
Shannon Edwards - SmoothJazzNow.com
"5.0 out of 5 stars Great CD!, December 27, 2011 By Joe - See all my reviews This review is from: Trying To Catch Rain (Audio CD) Excellent album and great music from very talented artist. Johnny hits home with his style of jazz. A must have for any smooth jazz listener."